Entry 25, 3/6/2020
X-O-N-G is on the way.
Entry 24, 5/31/2019
Well it's been a while, hasn't it?
We're still here, after a few months of work the first playable test build of X-O-N-G will be uploaded tonight.
Personally, Carson is prepping for college while the rest of the team is finishing college and prepping to work on games after college.
Thank you to everyone who's been hanging out with us this early, and we hope you're blown away but what we'll do in the future.
We're also going to find a better way to talk to people who play our games; through Twitter or a better blog or telekinesis.
For now, the X-O-N-G page is up. It's an early demo, and there are some bugs that will be worked out in the next one, the same deal as Dumb Dojo
Since we created it, this site has over 30k views, and tons of downloads. Thank you all so much.

Entry 23, 4/18/2018
X-O-N-G
Scratch the past entry, we're keeping the GW name.
We're working on something new. It's called X-O-N-G. It'll be at an event in NYC soon, stay tuned!

Entry 21, 4/12/18
Now that the Dumb Dojo Local Multiplayer Combat Build has been out, we've been taking some time to reflect on the past year at GWHQ
We've had a ton of fun working on Dumb Dojo, and can't wait to start the next project.
Our roadmap currently has us headed toward a single-player Steam release for Dumb Dojo. More on that later.
We also have...something else. That will have a quicker development time then Dumb Dojo. It'll also be a better game.
There also may be a bit of a branding change soon, so stay tuned!

Entry 20, 3/30/18
The Dumb Dojo Local Multiplayer Combat Build is here, for real this time! Sorry for the false alarm before. We picked up on a few stray bugs here and there that are now gone, and added a countdown timer.
Everything from the previous post is still true, it's just that we're actually making the game available now.
Unless we find something crazy, this is the final build of Dumb Dojo before the Single Player Steam update. Expect that in like, June.
Between now and then, we'll have something else to share. And can't wait for you to see that.

Entry 20, 3/25/18
The Dumb Dojo Local Multiplayer Combat Build is here! We just finished work on the free, local multiplayer build of Dumb Dojo. Making this game has been a life-changing experience for all of us.
We learned so much, and can't wait to use that knowledge in a new game, hopefull with a faster development time.
From here, this build will be updated ocassionally, send any bugs to actuallykronosaurus@gmail.com so we can fix them
We're gearing up for a full-fledge single-player Steam release. There will be more news as things happen
Expect the presskit to be updated, a trailer to be launched, and more details to show up soon.
Thank you so much to the over 20k people who have visited this site on this journey, you have changed our lives in a pretty huge way
We hope our game changes yours at least in the slightest.
Thank you
Entry 19, 2/18/18
Thank you Indiecade!!!!
The Dumb Dojo community-pop-up slot at Indiecade was awesome. For those who are here from that, welcome!
To follow up with Kronosaurus (the dude you met there), send an email to actuallykronosaurus@gmail.com
The game launches soon, and the indiecade patch beta build will be up shortly.
Thank you so much for coming out to Indiecade.
Entry 18, 2/18/18
Dumb Dojo will be at IndieCade East at the Museuem of the Moving Image tomorrow from 10:30 to 1:30.
Entry 17, 2/12/18
We're planning a big move to another site/brand, we'll have more news on that soon as we start to promote Dumb Dojo
We're gearing up for the launch of Dumb Dojo, expect it by March, we're sorry about all of the early release dates, it's our first time launching a game
Dumb Dojo will be at Indiecade East 2018 on Sunday at the Community-Pop-Up Shop. Come out and play one of the final versions of the game before launch
Keep it locked here, we're still working on that branding change and will keep everyone updated.
Entry 16, 2/2/18
Dumb Dojo is soon, we've been completley rebuilding the game from the ground up (whoops)
Expect a trailer soon, hopefully with a release date. There will be a subreddit and discord channel to stay up to date with the latest news soon
The game will be done and out before the 2nd week of March, we promise

Entry 15, 12/14/17
Dumb Dojo will release soon, we're aiming for January 10th 2018.
We've been working very hard on it, and have completley rebuilt the combat, menus, and art from the ground up
We want this game to be complete and out, but also the best it can be in the time we have. Thank you for your understanding.
There will be more details shortly, along with a playable tech/combat demo and more press things.
Entry 14, 10/27/17
Dumb Dojo's new look will be at Playcrafting NYC on Saturday 10/28!
Come check out 28.3, the last build before launch!
Speaking of launch, we're planning to launch Dumb Dojo right here at Ghostwhale.rocks and
on itch.io!
A Steam relase will happen a few months after the inital launch


Entry 13, 9/12/17
Dumb Dojo launches soon. Be ready to Enter the Dojo.

Entry 12, 6/14/17 - Dumb Dojo Version 28.3
Yep, you read that right, Dumb Dojo is still here, while a lot of the changes that this patch brings are internal
there's still a lot of us to talk about in terms of bugfixes and changes.
This is an experimental build, there are still a few issues to be fixed here, but they'll be fixed soon
Fixed lots of bugs in terms of 4 player "balance"

Rebuilt respawn system for four player, players now spawn in a pesudorandom location and the match continues after a player loses a stock

Changed starting boxes for two player, players now respawn in a pseduorandom location

Fixed many controller issues

Made a lot of progress in story mode, full release coming soon

Known Issues
Story mode semi-playable from main menu

Music issue still exists??

No gamepad input to select a stage in four player, so the keyboard must be used

Some characters will not be animated if there is not a controller plugged in to control them

Introducing Ghost Whale Tales! 6/12/17
So you might've noticed we've been a bit inactive, mainly because we're very busy with Dumb Dojo & Project L.
This isn't very exciting for anyone, and it keeps you awesome people in the dust, so we're happy to announce the GhostWhale Tales!
Along with announcements and patch notes, a weekly dev diary is going to be written and released this thursday, and every thursday after that untill some horrible catastrophe.
See you then!
(Thursday, not during the catastrophe).
Entry 12, 3/13/17 - Native Controller Support, Bug Fixes, Playcrafting, Story Mode and more!
Hey everyone, Ghost Whale team here! We have a ton of news regarding Dumb Dojo!

Despite our silence, we've been VERY hard at work making sure that Dumb Dojo is progressing steadily through its development schedule, which can be found here!

To show off some of this new work, we've released a new version of Dumb Dojo! Here are your patch notes for v 1.27.0!
Added native controller support! (A previous version with support was uplodaed to the site, we just forgot to put up the patch notes.)
Fixed some bugs between character-specific game crashes. All characters should work properly now.
Fixed some bugs to do with knockback in 4-player.
Moved some blocks on the 2-player version of cave. (Because of Sean.)
Added in pseudo-random spawn-boxes for each stage and each player.
Did a lot of minor bug fix work, but there's still a lot more to be done.
Known Issues:
Music won't play during some 4-player matches. Through extensive testing, this issue does not seem to be true for two player.
Sometimes, 4 player freezes. We're working on that.
Some characters don't handle their controllers being unplugged very well (certain animations don't play if a characters controller is unplugged or plugged-in mid-match).
Possible instability regarding the latest patch and 4-payer. Send all bug reports/freezes (preferably with screenshots) to www.actuallykronosaurus@gmail.com
Thank you to everyone at Playcrafting Expos and on the internet who have supported the game so far!
Entry 11, 12/13/16 - The Knockback Update!
This new Dumb Dojo update fixes a number of bugs, and adds some knockback!

Full Patchnotes
Added knockback
Added punching bag in developer mode
Started to add native controller support
Removed blocks on floralshoppe
Fixed several bugs in 4 player (So many I can't list them all here
Fixed some damage numbers
Started work on singleplayer

Entry 10, 12/10/16 - Thank you IGDA!!!
We didn't even notice, but IGDA Adelphi made a little blog post about Dumb Dojo's appearance at playcrafting!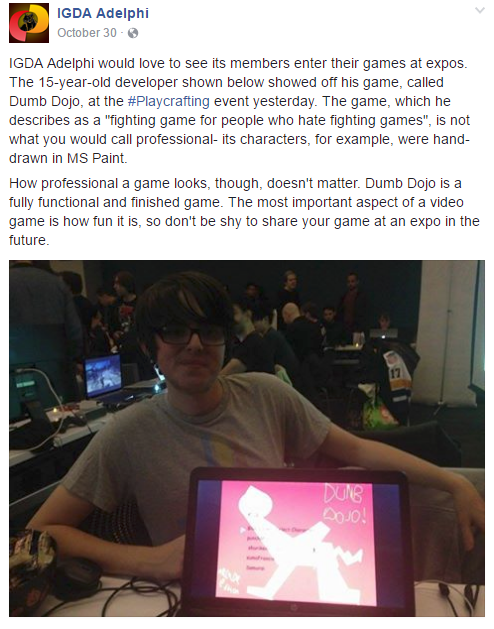 Huge thank you to Emily (who wrote the article). Stay tuned to the site for a new trailer and more news!
Entry 9, 12/8/16 - The 4 Player Update Update!!!
The 4 Player Update went through some changes to make it actually work. Here's a list. Apologies for releasing it before we tested it before all of the bugs
Fixed a bug when player 4 lost.
Fixed some balance issues
Added some native controller support

Known issues
Player one punchman sprites might not show up due to testing with controller support, will be fixed soon
Entry 8, 11/24/16 - The 4 Player Update!!!!
The 4 Player Update is basically done! Here's a list of changes!
A controller config will be available soon (And native xinput support is also on the way so you don't have to download a pesky config)
Added players 2 and 3.
Changed controls screen.
Added 4 player to the menu.
Added 4 player splash screen.
Added the option to start 4 player in the menu.
Added the stage "Town4"
Added the stage "Cave4"
Added the stage "Jungle
Added the stage "floralshoppe"
Changed around some damage numbers, no gameplay difference
Added a 4 player debug stage in developer mode

Known Issues:
Samurai (players 1,2,3 and 4) and all characters for players 3 and 4, don't have win animations
Entry 7, 11/21/16 - 4 Player Still being Worked On
We've been working hard on the 4 Player update, as there's a lot to be done.
The Dumb Dojo Trello Board is up so you can check our progress on things!

Entry 6, 10/31/16 - Thank you Playcrafting!
Thank you so much to everyone who stopped by and played Dumb Dojo at Playcrafting! We're super hyped to keep working on the game for you dudes!

A few notes
The official Dumb Dojo...Dojo steam group will be up shortly, and Kron will be doing and AMA on there soon!

The 4 player update is in development! Keep checking the steam group to see when the next livecoding twitch stream will be!

Huge shoutout to Dan and the rest of the Playcrafting team for an awesome night of battles!

Entry 5, 10/29/16 - The Playcrafting Update!
Dumb Dojo will be at Playcrafting in NYC today!!!! We fixed some bugs before the showcase!
Fixed a glitch where the match wouldn't start after the v.s screen.
Fixed a glitch where ninja stars would bounce off of samurai.
Fixed a "balance issue" between blue and green samurai.
Added bass to some sound effects.
Minor text fixes.
removedglitchgremlin

Changed the color of the boat blocks and temple blocks

Known Issues:
When samurai wins, the respective punchman is shown on the trophy screen instead of samurai.
The "winners don't do drugs sound" plays at the main menu when the sceren is skipped.
Both are easy fixes, we just don't have the time to fix them currently.

Entry 4,7/7/16 - The Preview Update
Added character preview at the select screen.
Raised the blocks on cave.
Old download link for Bug Fix Update 2 up soon.
Entry 3,7/5/16 - The Bug Fix Update 2
So the last update didn't squash all of those peky bugs, this pretty much does the trick!
Fixed Samurai's collisons (Some stars went through, other stars bounced without a shield out etc)
Entry 2,7/2/16 - The Bug Fix Update 1!
Since the bug fix update is no longer the current update, it cannot be downloaded from the main page. Use this link instead.

This is just a little update.

Added a "controls" screen.

Fixed a bug that caused players to cancel each other's moves when they attack

Increased Samurai's move speed by 1 (from 5 to 6)

Added sound for samurai
Ninja Stars now play the "bing" sound effect when blocked by Samurai

Added an extra block to cave

Removed option to enter story mode since story mode isn't working yet.

Organized the source code

removedglitchgremlin

Known Issues:
Drum loop restarts when the controls screen is entered

Entry 1, 7/1/16 - The Samurai Update!
After spending roughly ten minutes searching for "samurai puns" on google, I decided to introduce Dumb Dojo's newest character like this: Hey guys, Dumb Dojo has a samurai, he can block ninja stars! Yay! Here are the patch notes for Dumb Dojo Update 1.21.0:
Added the ability to skip intro splash screens

Made the intro menu drum track loop

Added the Samurai!

Enabled Developer mode, kept the way to acess it a secret

removedglitchgremlin